Sharp Short Dance 2020-Heats & Final!
Sharp Short Dance unearths the finest young dance artists from Sydney and beyond. The festival showcases the works of aspiring choreographers and dancers, film makers and music creators to display their talents. The performers demonstrate a wide range of dance genres and traditions from tap to jazz, flamenco to Bollywood, classical to contemporary.
This year applicants have been invited to enter a dance film or a recorded performance. Audiences can view the dance works online on FORM's website during three heats starting from the 26th of October through to the 12th of November and will have the option to vote for their favourite work. A panel of industry professionals will invite the best works to perform in the live streamed Final.
The winning performances will be eligible for awards including Most Innovative Choreography, Most Outstanding Male and Female Dancers, Audience Choice Award, Outstanding Dance Film Production and Original Music Score. Finalists are offered a variety of prizes as well as valuable industry secondment opportunities with leading dance companies.
For More Information Contact: sharpshortdance@cityofparramatta.nsw.gov.au or 02-98065672
On View (FORM Website)
Heat 1                         Monday 26 -Thursday 29 October
Heat 2                         Monday 2 – Thursday 5 November
Heat 3                         Monday 9 – Thursday 12 November
Heat Finalists          Monday 16 – Tuesday 17 November
Live Stream Final   Saturday 21 November at 7.00pm
& Award Ceremony
Livestream Ticket Price
From $10
---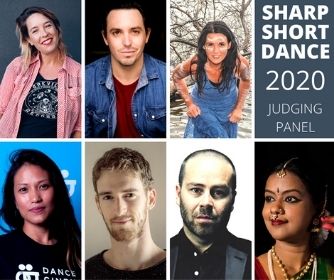 Emma Saunders, FORM's 2020 Associate Artist, WE ARE HERE Company
Jamie Winbank, Artistic Producer of Sharp Short Dance 2018
Jo Clancy, Founder and Director of the Wagana Dancers
Melissa Ramos, Founder, Director and Curator of Dance Cinema
Omer Backley-Astrachan, Course Coordinator Sydney Dance Company PPY
Shaun Parker, Artistic Director of Shaun Parker & Company
Aruna Gandhi, Bharatanatyam artist and Founder-Director of Silambam-Sydney
---
TESTIMONIALS
"This is where you want to be if you are keen to spot the dancers who are going to be the familiar faces of the future."
Vicki Van Hout, FORM's Resident Blogger 2019
"The most appealing part was being able to showcase my choreography in front of an audience as well as making new friends with the same passions as me!"
Participant 2019
"Such a great festival with a very warm and inclusive vibe. The participants will remember this occasion for life!"
Judge 2019
"Not only are the performances of the young people awesome, but you always ensure that the production is not just city, state, Australian but a world class production that we can all be proud to be from Western Sydney. You and the performers do this city proud."
Clr Bill Tyrrell, City of Parramatta 2019