Metadata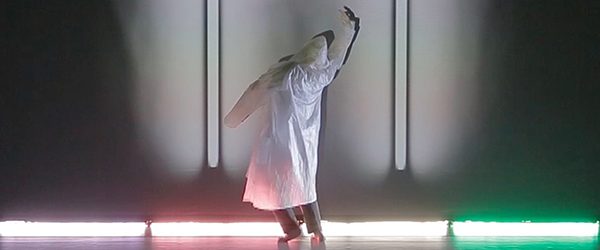 Images: Sam James
FORM DANCE PROJECTS AND RIVERSIDE THEATRES PRESENT
DE QUINCEY CO
METADATA

Danced by physics.
METADATA is an immersive performance work comprising two connected pieces PURE LIGHT and MOTHS & MATHEMATICS. Probing the latest developments in physics and cosmology, the artists explore a universe of colour, reverberation, particles and impermanence. METADATA invites you to delve into an intimate yet epic world revealing microscopic realms that catapult into a monumental universe.
Post-show ARTS-SCIENCE EXCHANGE: join in the conversation after each performance with the artists and invited scientists. A guest physicist, cosmologist or astronomer will elucidate some of the latest developments within the science field in the context of the performance. Facilitated by Associate Professor Ian Maxwell, Department of Theatre and Performance Studies, The University of Sydney.
If you were interested in the recent ABC TV series, Forces of Nature with Brian Cox, and the mathematics that makes a snowflake, you'll love METADATA.
"Nothing less than the essence of life." Deborah Jones, The Australian
CHOROEGRAPHER & PERFORMERS:  TESS DE QUINCEY, PETER FRASER
SOUND:  PIMMON & WARREN  BURT
ANIMATION:  BORIS MORRIS BAGATTINI
VIDEO:  MARTIN FOX
LIGHTING DESIGN: SIAN JAMES-HOLLAND
RIVERSIDE THEATRES
THURS 15 SEPTEMBER 8PM+ ARTS-SCIENCE EXCHANGE
FRI 16 SEPTEMBER 12.30PM MATINEE + ARTS-SCIENCE EXCHANGE
SAT 17 SEPTEMBER 8PM+ ARTS-SCIENCE EXCHANGE

TICKETS
ADULT: $35*
CONCESSION: $28*
SCHOOL TICKETS
SHOW+ ARTS-SCIENCE EXCHANGE $25
ARTS-EXCHANGE SPEAKERS
THURSDAY 15 SEPT 8PM
Prof. Geraint F Lewis, Professor of Astrophysics, Sydney Institute for Astronomy, The University of Sydney
FRIDAY 16 SEPT MATINEE 12:30PM
Prof. Geraint F Lewis, Professor of Astrophysics, Sydney Institute for Astronomy, The University of Sydney
SATURDAY 17 SEPT 8PM
Dr Maryanne Large, Associate Professor, School of Physics, The University of Sydney