In Development
FORM Dance Pojects & Riverside Theatres present
in RESIDENCE
FORM believes in the importance for artists to access studio space in order to play with ideas, collaborate, develop work and rehearse. FORM welcomes artists on a need basis for  up to two-week residencies in its Parramatta-based studio pending on availability and relevance to FORM's program.
Priority is given to artists developing work towards presentation in Dance Bites seasons.
Requests should be directed to production_form@cityofparramatta.nsw.gov.au or call 9806 5672
_______________________________________________________________________________________________________________________________________
DEAN WALSH
Dancer and choreographer Dean Walsh is the inaugural recipient of the Create Space Dance Residency. The residency is a partnership initiative between AusdanceNSW, the Sydney Opera House and FORM Dance Projects, to provide supportive residency space for artists who identify as living with disability.
Dean will use the two-week opportunity to continue developing his (rather epic) solo work, EgoSystem. It was first presented, as Threshold: NRC, on a double bill with Cloè Fournier, for the inaugural 'Generations' program, at PACT centre for emerging artists in June 2018. As with several performative and choreographic aspects of the first 'outing' last year, the name has been changed / developed to better describe this more fully realised and funded version.
ABOUT THE ARTIST
Dean has been a major influencer within the contemporary dance/performance, queer performance practice and disability arts access communities for the past 3 decades. He's done a lotta stuff!
15-26 July 2019
---
RHIANNON NEWTON
Artist Rhiannon Newton has resided in Form's studio prior to heading to Luxembourg for "Dance is a party" programme (3 May). During this time she prepared for her research residency, wherein she is planning to further develop a solo work which explores the interactions between memory and movement, through a focus on the female torso, as well as exercises of repetition and improvisation.
15-18 April _______________________________________________________________________________________________________________________________________
PEPA MOLINA
FORM welcomes back Flamenco dance artist Pepa Molina for the development of her new work Perceptions. Pepa's residency follows her 2018 "Without Borders Residency" supported by Blacktown Arts at the Residential Gardens, Sydney's only Spanish speaking aged care facility. Pepa will return in the studio later in May and June.
ABOUT THE ARTIST
Pepa Molina is an award winning Australian Flamenco artist with Andalusian heritage and a respected international profile. Her Flamenco productions have toured main theatre circuits in Spain, International music & dance festivals as well as Flamenco festivals across Europe, America and Asia, placing her amongst the leading international contemporary Flamenco dance companies.
4-8 March 2019
---
ALEXANDRA KNOX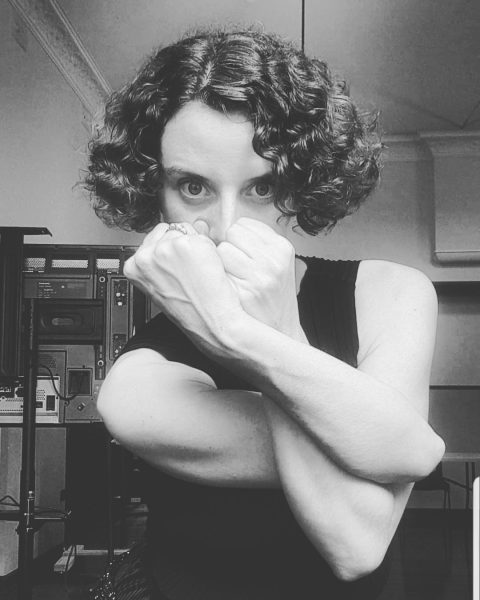 Between 13-22 February, Australian dancer Alexandra Knox spent time in FORM's studio, exploring possible collaborations with other artists.
"Recently I have had the rare pleasure of working with my mother Jennifer Barry (who worked with American choreographer Eleo Pomare and became one of the signature dancers of Australian Dance Theatre and Sydney Dance Company). I just recently completed a production entitled 'Dancers with Dirty Feet' which explores original repertoire of Eleo Pomare and Australian Dance Theatre, supported by the Australian Dance Theatre foundation, the Lincoln Centre Institute and the Eleo Pomare foundation (New York City). Since this time I have reflected on my own voice creatively and what it means to me personally." Alexandra Knox
ABOUT THE ARTIST
Alexandra is a choreographer/dancer who has relocated to Sydney from Adelaide and has worked between the independent sector and companies such as Leigh Warren Dance Hub and Australian Dance Theatre.
13-22 February 2019
---

NARCI-FIXION
ANTON AND BRIANNA KELL
Following Supermodern Dance of Distraction presented by FORM in 2012, Anton is back in the studio for the seed development of a new work with Brianna Kell and composer Jai Pyne. NARCI-FIXION theatrically explores modern human narcissist tendencies prevalent in today's, me, self-obsessed, tap and scan superficial society and is a mix of the serious and the super obtuse. The duet will delve into the psychology of ego and super ego and is a deep physical dance exhibition that investigates riotous movement, physical characters and humorous theatricality.
ABOUT THE ARTISTS
Anton is a Sydney based arts professional who has navigated dance for 22 years. He has successfully worked in the industry as a performer, choreographer, producer, project director, movement director, rehearsal director and dance teacher. Also based in Sydney, Brianna has performed and worked with companies The Farm in collaboration with Co3, TASDANCE, Limosani Projekts, DirtyFeet, and Murmuration. Anton 45 and Brianna 29 first met in 2012 at TASDANCE. From that point both knew they had an exceptionally strong mutual artistic connection that has grown from strength to strength. Over 2018 Brianna and Anton spent time in the Bangarra and Brand X studios pursing, pushing and exploring ideas for a new collaboration.
7-24 January 2019 (this residency was shared with ReadyMade Works)
---